PENERAPAN ALGORITMA KLASIFIKASI NEAREST NEIGHBOR (K-NN) UNTUK MENDETEKSI PENYAKIT JANTUNG
MEI LESTARI
(1*)
(1)&nbsp
(*) Corresponding Author
Abstract
Data from WHO states that 7,3 million people die because of Heart Disease.
Although Heart Disease is not contagious, this kind of disease is the number 1 disease causing death. Heart disease is also called as coroner disease. It happens when the blood drifting to the heart muscles stops so that it causes heart disorder (Rajkumar & Reena, September 2010). The application of Nearest Neighbor classification (K-NN) algorithm is expected to overcome the problems on the affectivity and accuracy in detecting heart disease. In this research, the K-NN with K = 9 is used on 100 patients of heart disease.
The result revealed is that the accuracy is 70% and the AUC is 0.875 which belong to the good classification. Hence, K-NN algorithm can be used and applied in detecting heart disease.
Keywords: Nearest Neighbor, Jantung, Algoritma, Akurasi.
DOI:
http://dx.doi.org/10.30998/faktorexacta.v7i4.290
Refbacks
There are currently no refbacks.

This work is licensed under a Creative Commons Attribution-NonCommercial 4.0 International License.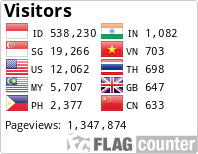 View Faktor Exacta Stats