Processing The Ground Motion Signal Recording Using Correction Instrument Method
Erna Kusuma Wati
(1*)
(1)&nbspUniversitas Nasional
(*) Corresponding Author
Abstract
The instrument correction method is a way to eliminate interference with the signal from the recording instrument response. Signal processing by the instrument correction method using the inverse filter method created using the MATLAB program. In this research using Honshu earthquake data, Japan with Mw 7.4 (dated September 5, 2004) recorded by the MERAMEX seismometer type L4C-3D type short seismometer and Japan Tohoku-Oki earthquake with a strength of Mw 9.0 (March 11, 2011) the data from four seismic stations in Padang, West Sumatra with a DS-4A type short-period seismometer. From the research known, the signal can clearly show the phase of the P and S waves. This can help to determine the parameters of the hypocenter, receiver function, moment tensors, studies of .  The surface wave phase can be reconstructed well. This is very useful for studies using surface wave data, moment tensor solutions, seismic wave dispersion studies. Based on the amplitude of the instrument correction results compared with theoretical data, the gain or amplification .
References
P. Bogert, "Correction Of Seismograms For The Transfer Function Of The Seismometer," Bulletin of the Seismological Society of America, p. VM. 52, No. 4, pp. 781–79., 1962.
P. Bormann, "New Manual of Seismological Observatory Practice Volume 1," GeoForschungsZentrum Potsdam, 2002.
G. H, "Analisis Data Geofisika Monitoring Gunungapi Berdasarkan Pengembangan Pemodelan Analitik Dan Diskrit (Bagian II) : Contoh Kasus Koreksi Instrumen Dalam Penentuan Amplitudo Seismogram Digital.," Bull. Vulkanol. dan Bencana Geol., vol. 3, no. 3, pp. 13–16, 2008.
F. Scherbaum, Of Poles and Zeros fundamental of digital seismology. Kluwer Academic.Boston, London, 1996.
M. Graizer, V, Determination of the ground displacement. 1976.
P. M. Haney, M., John Power., Michael West., "Causal Instrument Corrections for Short- Period and Broadband Seismometers.," Seismol. Res. Lett., vol. 83, no. 5, 2012.
J. Havskov, Instrumentation in Earthquake Seismology. University of Bergen Norway, 2002.
DOI:
http://dx.doi.org/10.30998/faktorexacta.v14i2.8482
Refbacks
There are currently no refbacks.
This work is licensed under a
Creative Commons Attribution-NonCommercial 4.0 International License
.

This work is licensed under a Creative Commons Attribution-NonCommercial 4.0 International License.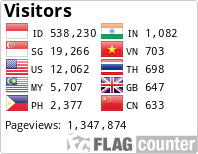 View Faktor Exacta Stats